Articles
Over the years Lorraine has been asked to contribute articles for a number of publications. She's still writing today. The following are a small selection of her published articles.
Latest Article
What Lies Within Us?
In the business world, what's amazing about human resources is how it's misunderstood, underutilized, unappreciated and abused – by employer and employee alike. Read more about enthusiastic employees…
Teams
If It's Not a Team, What Is It?
Have you ever wondered why some offices are more productive than others and how that happens? Read more about teams…
Organization, Structure and Morale
A high performing team does not happen by chance. It begins with an organization that is clear about it's mission, vision, values and priorities. Read about how team strategies can boost your overall success…
Team Involves Everyone: From the Top to the Bottom
What's the difference between a corporate team and a group of people who work together, enjoy meeting, sharing information and experiences? Find out what this has to do with you…
Leadership
Inspiration and Innovation: It's Culture Based
Nowadays, the race is on to keep pace or be slightly ahead of the competition. Doing the same thing over and over and expecting different results is one definition of insanity. Yet some people just never give up and strenuously resist change and the thought of innovation, much less, the deed. Read more about innovation and inspired leadership…
What's Your Best Bet in Challenging Times
Acting strategically, creatively and decisively leads to survival and growth. Read more about acting strategically to deal with change (pdf)…
Joy and Inspiration
Where does it say that you can't have fun while you're carrying out your responsibilites? To read more about joy and inspiration (pdf)…
Innovation
Education and Innovation
Education, creativity, research and innovation play a crutial role. To read more about education and innovation (pdf)…
Change
Change: It's a Matter of Belief
The ancient Greeks believed that running a 4 minute mile was impossible. Read why this matters to you and your business…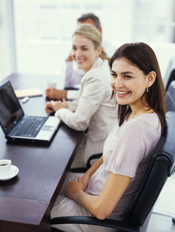 "We found Ms. Weygman to be a very dedicated and enthusiastic developer of people who applies her knowledge and experience in an extremely effective manner.
"Although she is highly qualified academically and has achieved impressive qualifications through studies, she has the ability to be very practical and communicates with a wide variety of people in a positive and down to earth manner.
"Apart from conducting seminars, and training sessions on many topics, she has become a writer of many articles which have been published internationally."
F.S.Rodgers.
Chairman
STAFF TRAINING CENTRE PTY. LIMITED
AUSTRALIA