Inspiring Change:
From resistance to cooperation
Success depends on innovative thinkers, risk takers and those willing to continually evolve, whether as individuals or as organizations. Professionals must take the lead, master the reasons why people actively or passively resist change and help them move forward to ensure an inspired, innovative workforce. By finding out the purpose of resistance, participants will see their values, attitudes, priorities and limiting beliefs in a new light.
The Inspiring Change intervention can deal with your leadership team or your entire workforce. Change must be embraced throughout your organization for it to succeed.
The results
Your team will learn the three critical factors why they continue to remain in their "comfortable or uncomfortable ruts".
They will come to understand the effects of change on the personal, interpersonal and organizational levels
They see how to visualize greater possibilities with lowered stress.
Your people become more adaptable, open minded and creative.
They will be able to apply a changed perspective to life's daily activities.
Your people will leave invigorated with a focused, realistic action plan. Will be more comfortable with change and able to immediately practise new behaviours.
The process
Active Listening Session where your intentions, goals, issues and strategy are explored.
You confirm the goals, expectations and financial implications of the issue.
Working with you we identify the gaps between what works well and what doesn't.
Next your challenges and opportunities are clearly defined.
Working within the reality of your situation, we recommend what will work best to achieve your goals.
With your team, we develop timelines, assign responsibilities and implement the recommended programs.
At a set time, we come back to work with you to review successes, measure outcomes and recommend next steps.
An example from my world
The situation
A medium size supermarket chain was being challenged by a combination of aggressive competition, internal resistance to change and ineffective store managers.
The solution
A number of exploratory sessions were held with senior executives to flesh out the issues of the organization, the market, customer service, the concept of value and their strategic plan.
The findings were presented to the senior executive and all store managers. We led the session to gain a broader understanding of the various points of view and agree on what changes needed to be created.
Change management and leadership workshops were held to demystify change and clarify why individuals as well as organizations resist change. The importance of clear, honest communication was stressed.
Through leadership training sessions, senior executives, store managers and other staff learned how to make change work for them.
The result
Managers and staff were inspired to make changes, work more closely together for the success of their individual stores as well as the company in general. Innovations were implemented, changes resulted with increased customer satisfaction. One major result was that one underperforming store was closed and two new stores were opened in new locations.
The new leadership skills of managers helped them build support and greater confidence with staff and, as a result, "word of mouth" recommendations by customers increased business.
All in all, the organization experienced greater success than in previous years.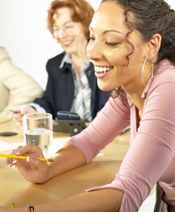 "Lorraine's skills, academic and professional background confirmed that she was the correct choice. The seminar was to the point with the correct mixture of knowledgable information being presented; combined with participation by our personnel through various activities. The presentation held everyone's attention and made the learning experience quite positive and rewarding for all who attended."
Timothy Hand
Chief Financial Officer
The Crupi Group