Joy, Inspiration and Innovation:
A leader's happy triplets
Twenty first century success depends on inspirational leaders who are prepared to innovate, take risks and make the changes work. Most of all, they spark imagination and develop a culture of trust and confident success. They master the reasons why individuals actively or passively resist change and know how to help them move forward to ensure an inspired, engaged and innovative workforce.
This intervention focuses on the leaders in your organization.
The results
Your key people will understand the leadership style that helps support innovation.
They will be able to consistantly create innovative solutions to previously challenging problems.
Your team will take away the four individual thinking styles that expand team resources.
They will understand the three critical factors that make a difference between resisting and cooperating.
Your leaders will see how to inspire greater cooperation which leads to fewer arguments.
And they will take away useful tools and processes for sustained, outcomes and successfully implemented solutions that they will be able to immediately apply.
The process
Active Listening Session where your intentions, goals, issues and strategy are explored.
You confirm the goals, expectations and financial implications of the issue.
Working with you we identify the gaps between what works well and what doesn't.
Next your challenges and opportunities are clearly defined.
Working within the reality of your situation, we recommend what will work best to achieve your goals.
With your team, we develop timelines, assign responsibilities and impliment the recommended programs.
At a set time, we come back to work with you to review successes, measure outcomes and recomment next steps.
An example from my world
The situation
The senior VP of a medium sized company, well known and respected in their field, experienced a need for innovative change due to the pending implementation of a new I.T. system and dissatisfaction with the leadership and communication style within the organization. Although staff was paid well for their industry, rising turnover and absenteeism added to major concerns.
The Solution
A number of fact finding sessions were held, beginning with the initial contact person and then with senior managers and direct reports to confirm the resistance to change, leadership style, workplace culture and reasons for employee dissatisfaction.
A meeting was held with the senior team to report results and for them to agree to a plan for change and to make sure we solved the problems, not the symptoms. Strategic plan, mission, vision, values and how teams are formed and function were included.
Managers were given a thinking styles inventory to find out their individual profiles to understand how they make decisions and solve problems. A look at workplace culture and the effect of the leadership team created on the organization was discussed with ideas for implementation.
A questionnaire was sent out to all participants two weeks before the initial workshop, asking them about their perceived challenges and what changes they wanted to see. Responses were sent via e-mail and were guaranteed confidentiality. This information was used to make sure the workshop addressed issues as seen by staff as well as by the executive.
A one-day initial workshop was custom designed to include all senior executives, managers and key personnel. Follow-up workshops, facilitation and coaching sessions by the consultant were included over the following months.
The Result
Workplace culture improved because the CEO and senior team changed their leadership style to a more constructive and supportive one. The new IT system was put in place with total cooperation from all concerned.
Staff felt free to contribute their skills, knowledge, experience and talents to their job function and their colleagues. Employee engagement, productivity, satisfaction and profits increased.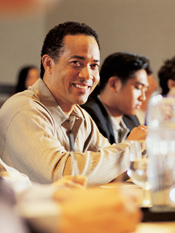 "…we have had the pleasure of working with Lorraine Weygman on two separate occasions to design specific training courses to deal with our corporate and company needs. The preparation, presentation, style and content of Lorraine's material were absolutely first class.
She has the unique ability to reach out to her audience and make them participate and enjoy. She receives and maintains a very high level of attention and involvement from her audience. An absolutely first rate speaker with an excellent knowledge of her subjects and command of her audience."
James J. Horsley, President, Teltone Limited